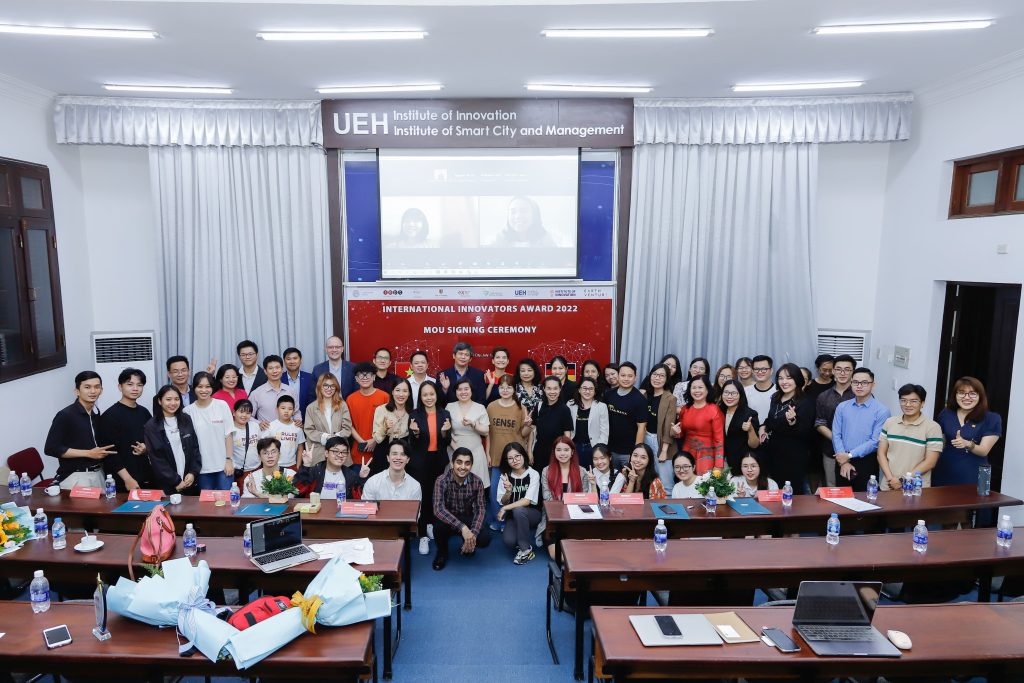 The International Innovators Award (IIA) is an annual activity of SEPT Competence Center, the Leipzig University and our partners in Vietnam, the University of Economics Ho Chi Minh City. For more than 5 years the competition has created the opportunities for young enterprises and start-ups in Vietnam to connect and explore the new markets in the European Union and Germany in particular. The IIA offers a stage for young entrepreneurs to present business plans that have high potential to implement in European markets.
Our offer
The International Innovators Award offers the following benefits for innovative Vietnamese companies interested in business development abroad:
Occasion to present the solution/product or service portfolio to an international jury/ investors.
Training on designing International Business Models and pitch preparation
Participation in the Export Management Advanced Training (which costs EUR 1200)
Gratification of the top 3 winning startups/SMEs with a trip to Germany, getting access to office space in Leipzig University including lump sum for flights and travel expenses (with maximum of EUR 1500)
Opportunities for direct matchmaking with German business partners/customers as well as for product/ service validation on site in Germany
Opportunities to receive support and mentorship from UEH Institute of Innovation
Opportunities to join the equity-free incubation programs, training sessions and access to co-working space in Ho Chi Minh City and/or Mekong Delta for free
Chance to establish a long-term international cooperation
Chance for networking with the Vietnamese community in Leipzig, Germany
Target group
Dynamic Vietnamese startups and young SMEs offering existing innovative products, services & technologies
Interested in settling in Germany and/or business development on the German market
With good English or German skills (the presentation will be held in English)
With can-do attitude, international orientation and ability to be innovative
More information about IIA 2023 including detailed process you will find in our ↗️flyer.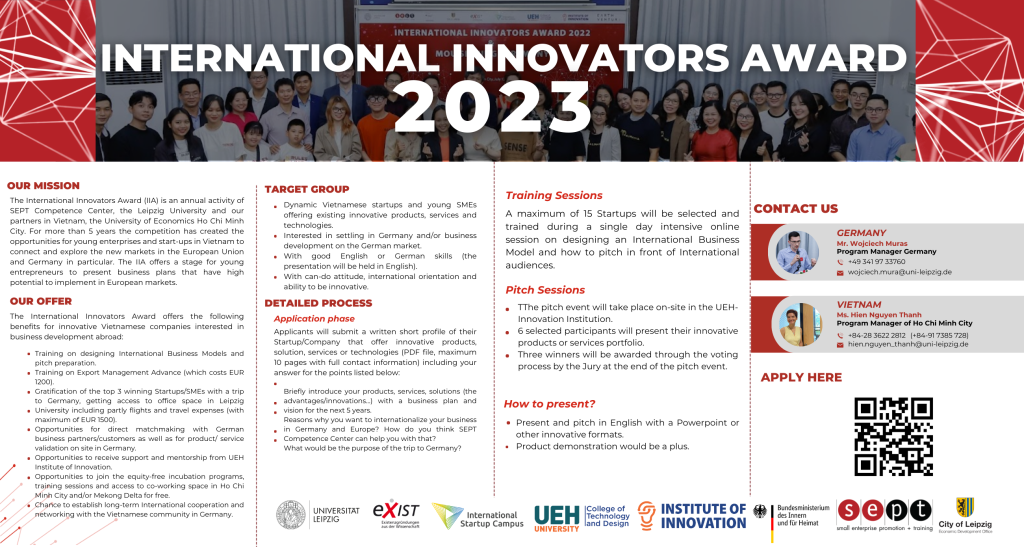 Application
All applicants will submit a written short profile of their startup/company and offered innovative products, solution, services or technologies (PDF file, maximum 10 pages in English with full contact information) including your answer for the points listed below:
Briefly introduce your products, services, solutions (its advantages/innovations/unique selling proposition etc.)
Present your business plan and vision for the next 5 years
Point out the reasons why do you want to internationalize your business in Germany and Europe? business development strategy and action plan for the German market
What would be the purpose of the trip to Germany?
How do you think SEPT Competence Center can help you in your internationalization in Germany?
An initial selection will be done by SEPT and partners based on the quality of applications
Application deadline: 15th of May 2023
To submit your application please fill the form below and attach your pitch deck or send it per email to wojciech.muras@uni-leipzig.de
IIA Winners 2021 & 2022
Contact us

Mr. Wojciech Muras
SEPT Competence Center
Leipzig University
Ritterstraße 9 – 13, 04109 Leipzig, Germany
📞 +49 341 97 33760

Ms. Hien Nguyen Thanh
Program Manager Ho Chi Ming City
Vietnam SEPT Office 4th Floor, German House 33 Le Duan Str., Dist. 1 HCMC, Vietnam
📞 +84-917385728